Dumpster Rentals In Barrie, ON
Dirty Deed Disposal
Barrie, Ontario
About
Dirty Deed Disposal is a small mini bin co. servicing Barrie and surrounding area. Bins range in size from 12 yd.³ to 18 yd.³ roofers, homeowners,general contractors all find that our rental process and sizes are "easy" and affordable Call today for a free quote talk to the owner Ted Redman Don't be fooled we are the real Dirty Deed Disposal since 2002
Dumpsters Sizes
Dirty Deed Disposal provides different types of services. We offer front load dumpster containers with sizes from 1 to 8 cubic yards and open top roll off dumpsters with sizes from 15 to 40 cubic yards.
Open Top Roll Off Dumpsters

5 Yard Dumpsters
8 Yard Dumpsters
10 Yard Dumpsters
12 Yard Dumpsters
16 Yard Dumpsters
20 Yard Dumpsters
30 Yard Dumpsters
Get Quotes
Dirty Deed Disposal Dumpster Rentals: Get Free Online Quotes From A Local Waste Hauler & Dumpster Rental And Save
Serving areas
Alliston, Angus, Barrie, Collingwood, Innisfil, Midland, Orillia, Oro, Penetanguishene, Springwater Township, Tay, Wasaga Beach, Washago
More Dumpster Rentals Providers In Barrie, ON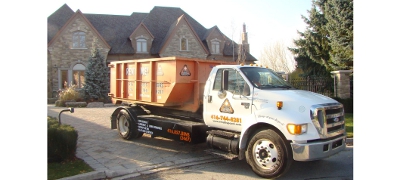 RMS DISPOSAL - Serving Barrie
Barrie
RMS DISPOSAL: "CALL US FIRST, DON'T BE OVER CHARGED" Licensed by the Ontario Ministry of the Environment and open on weekends, RMS Disposal is "Always at your disposal!" Fully insured, we provide 24-hour residential, industrial and commercial disposal service. We offer...
Get Quotes