Dumpster Rentals In Montréal, QC
Le Géant Du Conteneur Montreal
2236, rue Pitt, Montréal, Quebec, H4E 4H1
About
Roll Off Container & Commercial Dumpsters in Montréal, QC

Le Géant Du Conteneur at Montréal Island is a professional waste management and dumpster rental company offering a wide range of waste removal, junk hauling and recycling services. Le Géant Du Conteneur carries a large inventory of front load commercial dumpsters and roll-off containers (aka open top garbage dumpster bins) to satisfy any of your waste removal project requirments from cleaning a residential property to a large demolition project or construction site clean up.

In addition Le Géant Du Conteneur offers portable toilets and temporary fancing solutions. Consider our eco- and driveway-riendly dumpsters and waste containers for household junk removal, bath or kitchen renovation project, for demolition debris removal, or for any other project of solid non-hazardous wasaste removal and disposal. When cleaning up work sites, we go to great lengths to reduce and recycle your waste materials in order to minimize the amount sent to landfills or incinerated.

Le Géant Du Conteneur offers a wide range of personalized, efficient and cost-effective services that comply with sustainable construction standards. Contact us to find out how this approach can enhance your offer, while respecting your environmental values. For a clean, safe and environmentally friendly construction site.

2236, rue Pitt
Montréal (Québec) H4E 4H1
Dumpsters Sizes
Le Géant Du Conteneur Montreal offers different types of bin rental services from small bins for heavy loads like dirt and sod, sand, gravel, etc. to large roll off containers for property clean up projects and construction debris removal. See available dumpster sizes below:
Open Top Roll Off Dumpsters

10 Yard Dumpsters
14 Yard Dumpsters
20 Yard Dumpsters
40 Yard Dumpsters
Front Load Dumpsters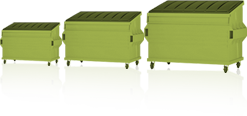 2 Yard Dumpsters
4 Yard Dumpsters
6 Yard Dumpsters
8 Yard Dumpsters
Get Quotes
Le Géant Du Conteneur Montreal Dumpster Rentals: Get Free Online Quotes From A Local Dumpster Rental.
More Dumpster Rentals Providers In Montréal, QC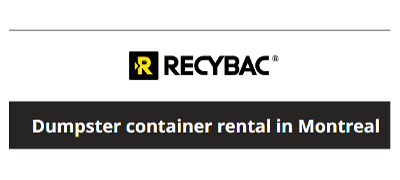 Recybac - Serving Montréal
10930 Sherbrooke St E, Montréal-Est, Quebec, H1B 1B4
Recybac® is a roll off container rental, garbage bin rental and dumpster services compay serving residential, commercial and industrial customers in Montreal, Laval, Longueuil and the metropolitan area (South Shore and North Shore). Recybac provides dumpster rentals, junk removal and disposal an...
Get Quotes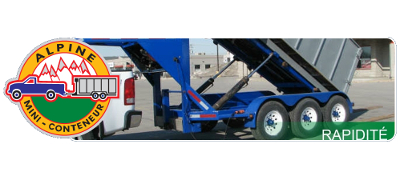 Alpine Mini-Conteneur - Serving Montréal
1270 Avenue Léo-Lacombe, Laval, Quebec, H7N 3Y6
Depuis maintenant 15 ans, Alpine Mini-Conteneur vous offre le service de location de conteneur. Nos nombreuses années d'expériences dans le domaine vous garantissent un lien de confiance et de satisfaction. Notre équipe dynamique veille à offrir des services de lo...
Get Quotes