Dumpster Rentals In Oromocto, NB
Capital Bin Rentals
796 Tripp Settlement Rd, Keswick Ridge, New Brunswick, E6L 1X4
About
Capital Bin Rentals of Keswick Ridge, NB is a garbage bin rental and junk removal company servicing Fredericton, NB and surrounding areas. Capital Bin Rentals provides commercial and residential clients in Fredericton and surrounding areas with prompt, efficient and affordable waste hauling and dumpster rental services. Whether you need a dumpster for construction site clean up, for home renovation, office remodeling or for junk removal from your garage or basement, Capital Bin Rentals is the company to call.
Load Capital Bin 12 cubic yard roll off dumpsters with your unwanted junk including but not limited to
Old furniture
Remodeling waste
Renovation debris
Property clean up waste
Old appliances
Old junk from your garage or basement
Other non-hazardous solid waste that municipal garbage companies dont take.
The garbage bins are placed on wooden 2×8 planks – protecting your driveway or lawn. For your convenience, Capital Bin Rentals also offers a low profile dumpster bins at 3 1/2 feet making disposing of material easier without the need to lift the contents much above the waist. Ideal for home owners who are renovating or working on new projects.
Dumpsters Sizes
Capital Bin Rentals offers different types of bin rental services from small bins for heavy loads like dirt and sod, sand, gravel, etc. to large roll off containers for property clean up projects and construction debris removal. See available dumpster sizes below:
Open Top Roll Off Dumpsters

Get Quotes
Capital Bin Rentals Dumpster Rentals: Get Free Online Quotes From A Local Dumpster Rental.
More Dumpster Rentals Providers In Oromocto, NB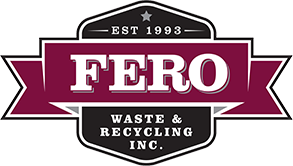 Fero Waste & Recycling Inc. - Serving Oromocto
203 Desbrisay Avenue, Moncton, New Brunswick, E1E 0G7
Fero Roll Off Containers offer dumpster rentals and junk removal in all NB and parts of NS. Our disposal containers range in size from 14 to 40 yards and are used for larger projects such as large roofs, demolition, storage, modifying structures and other high volume commercial waste removal. If yo...
Get Quotes