Dumpster Rentals In Woodstock, ON
Orange Dumpster Rental
Woodstock, Ontario
About
LOWEST PRICES ON DUMPSTER RENTALS
We are a fast growing competitive Bin company in London and surrounding areas. We offer various size bins and we always protect your laneway when we place the bin. We have friendly operators and user friendly bins to help you with your project. Be sure to call the number that everyone is calling these days for a bin.
Garage clean outs
Estate house hold clean outs with help to load bin if needed
Demolition jobs that require a bin
Home renovations or office building clean outs.
Roofing projects, various size bins.
Contractor discounts on multiple bins.
We have easy loading bins from the back doors. Wheelbarrow your depris into the bin. Also bins are equipped with a tarp system to keep people from helping themselves to your bin.
We recycle many things from electronics,rubbish,construction material,roofing jobs,house hold renovation,concrete etc.
Renting a bin makes the project much more enjoyable then having to worry about how your going to dispose of your unwanted items or material. We have very good prices and are not out to charge any hidden fees for your project. We hope to help you in your next project by bringing you a bin of the size you need.
ORANGE DUMPSTER RENTALS
Today's disposal of so many different items is becoming very Large in all counties and communities In the day we only use to see these dumpsters in Malls ,construction site , stores and large housing complexes. We are entering into a new world of disposal and recycling. It is not uncommon to see 2 or even 3 dumpsters on the city street in London Ontario. This is also common in other Moderate size cities. Dumpsters are used in so many different applications such as the big roofing industry Shingles are being removed from homes and commercial buildings at a alarming rate. Orange Dumpster Rentals feels that we need to take action on the over seeing of these shingles at the recycling level. We need to come up with a multi reuse of this production that will help us in the future. Construction material is now somewhat different as the waste is often reusable. For example the wood material is chipped down to a form that can be used for multiple things such as fuel and ground cover. Brick and Block can be crushed down and recycled in many other forms of finished product. Concrete is another reusable product that can be crushed and made into a gravel form that can be used in multiple ways. House hold items can be recycled as well. Wood, steel, and items that can be donated to the less fortunate. Yard clean – up is another good product for reuse Soil , tree branches , leaves. Etc can all be either chipped or composted as a reusable future product . The mini dumpster industry in getting very Large. People like to use the smaller bins as opposed to the larger ones on most applications. They are very handy to use and for placement on your property. We take all caution on the delivery and pick up process. The bins are placed on wood planks in a manner to protect the area in which the bin is sitting on.
Orange bin Construction
Orange Dumpster Rental bins are constructed out of 12 gauge steel and heavy duty steel rail and tube
Rear double doors have a locking latch system 3 yard to 20 yard
Semi auto tarp system on bins tarp hood as well. Bin doors have chains to hold doors open for loading and unloading as a Saftey feature ( Always Saftey First ) Bins are painted with a heavy duty paint that can handle all elements of southwestern Ontario . Rollers are on every bin for adjusting the bin placement on the wood planks. Each bin has a large phone number in which Orange Dumpster Rental uses to make it easier for people to contact us. Orange Dumpsters bins are always kept up and clean to ensure a pleasant bin renting experience.
"Your driver was amazing at dropping the bin on our new stamped concrete lane way! Great job!"
Sally
Dumpsters Sizes
Orange Dumpster Rental offers different types of bin rental services from small bins for heavy loads like dirt and sod, sand, gravel, etc. to large roll off containers for property clean up projects and construction debris removal. See available dumpster sizes below:
Open Top Roll Off Dumpsters

5 Yard Dumpsters
8 Yard Dumpsters
10 Yard Dumpsters
12 Yard Dumpsters
16 Yard Dumpsters
20 Yard Dumpsters
30 Yard Dumpsters
Get Quotes
Orange Dumpster Rental Dumpster Rentals: Get Free Online Quotes From A Local Dumpster Rental.
Serving areas
Ailsa Craig, Byron, Clandeboye, Delaware, Denfield, Dorchester, Exeter, Fingal, Forest, Grand Bend, Ilderton, Ingersoll, Ipperwash, Kerwood, Kirkton, Komoka, Lambton Shores, London, Lucan, Melbourne, Narin, Parkhill, Port Franks, Port Stanley, Shedden, Southwold, St. Thomas, Strathroy, Tavistock, Thamesford, Tillsonburg, Union, Watford, Woodstock
More Dumpster Rentals Providers In Woodstock, ON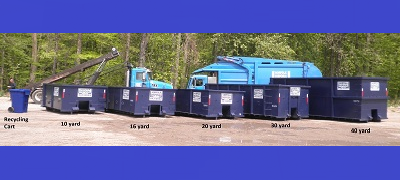 Norfolk Disposal - Serving Woodstock
Woodstock
Norfolk Disposal Services, of Waterford, is a family run business serving the local community since 1963. This leader in waste management and recycling has an ever growing fleet of collection vehicles and bins throughout the region. Innovation is a cornerstone of the business. Because of this...
Get Quotes