Dumpster Rentals In Elora, ON
Spot Roll-Off Containers
260 Forfar St E, Fergus, Ontario, N1M 2X7
About
Spot Roll-Off Containers offers roll-off bin rentals for trash disposal, household junk removal, construction debris, renovation waste, dirt, sod, concrete, gravel and other unwanted non-hazardous waste material and rubbish you need to get rid of.
Same Day Service
Mini Bins for Small Spaces
Driveway Friendly
Renovation / Construction Waste
Household Cleanup / Yard Waste
Roofing & Siding
Open Top Refuse Bins
Dumpsters Sizes
Spot Roll-Off Containers offers different types of bin rental services from small bins for heavy loads like dirt and sod, sand, gravel, etc. to large roll off containers for property clean up projects and construction debris removal. See available dumpster sizes below:
Open Top Roll Off Dumpsters

Get Quotes
Spot Roll-Off Containers Dumpster Rentals: Get Free Online Quotes From A Local Dumpster Rental.
More Dumpster Rentals Providers In Elora, ON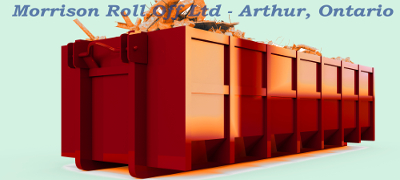 Morrison Roll Off Ltd - Serving Elora
8416 Wellington Rd 109, Arthur, Ontario, N0G 1A0
Morrison Roll Off of Arthur, ON is a local bin rental company offering a wide range of waste removal and dumpster rental services including: Demolition Debris Removal & Recycling General Garbage & Rubbish Removal Roll-off Containers (also referred as a roll off dumpster) Rentals Garba...
Get Quotes