Junk Removal In Guelph, ON
J.R Disposal & Hauling
9549 Guelph Line, Campbellville, Ontario, L0P-1B0
Guelph Junk Removal
J.R Disposal & Hauling is a dumpster rental and junk hauling company. J.R Disposal is a privately owned and operated company serving waste disposal needs and dumpster rental needs of residential and commercial customers in Milton and surrounding ares. We specialize in 6,10,12,14,16and 20 Yard bin rentals.Click on the telephone icon above to make a free phone call for any questions or for quotes!
Get Quotes
J.R Disposal & Hauling: Get Free Online Quotes From A Local Provider and save.
More Junk Removal Providers In Guelph, ON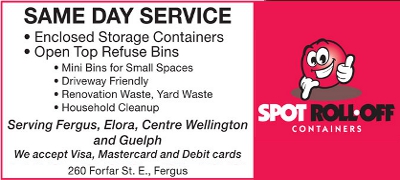 Spot Roll-Off Containers - Serving Guelph
260 Forfar St E, Fergus, Ontario, N1M 2X7
Spot Roll-Off Containers offers roll-off bin rentals for trash disposal, household junk removal, construction debris, renovation waste, dirt, sod, concrete, gravel and other unwanted non-hazardous waste material and rubbish you need to get rid of. Same Day Service Mini Bins for Small Spaces Dri...
Get Quotes