No Hazardous Waste In Our Dumpsters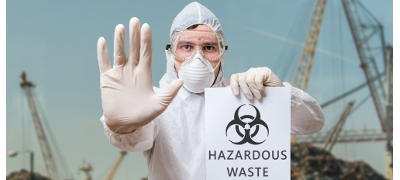 Having a dumpster delivered to your home or work site is convenient, but there are strict rules about what waste you can and can't load into a dumpster. At Dumpster Rentals Depot, we like to periodically remind all our clients what is and isn't legal to put into our dumpsters. There are laws and statutes dealing specifically with the disposal of biomedical and hazardous waste (any material or substance known to be toxic or harmful to humans upon exposure). Here's a brief rundown of what you can't throw in our dumpsters:
Biomedical Waste
This includes any waste or waste products generated by the following:
any waste from human or animal care facilities (doctors offices, hospitals, vet clinics)
waste from medical or veterinary/animal research educational institutions
health care education centers
clinical testing and research labs
facilities that produce or test vaccines
Specifically Prohibited Substances
These are the type of items clients are prohibited from loading into Dumpster Rental Depot dumpsters:
Human Biomedical Waste
human anatomical waste including human tissue, organs, or body parts
Animal Biomedical Waste
any animal waste including tissue, organs, body parts, carcasses, bedding, blood and blood products
animal fluid and blood
any items saturated or dripping with animal blood
animal body fluids extracted for diagnosis or during surgeries, treatments, or autopsies
Microbiology Lab Waste
cultures
specimen stocks
attenuated or live vaccines
cell cultures from humans or animals used in research
any lab materials that has come into contact with the above listed items
Blood and Blood Products
human fluid blood or any blood product
any items saturated or dripping with human blood
blood contaminated body fluids
human body fluids extracted for diagnosis, surgery, treatments or autopsies
Clinical/Lab Waste
sharps (needles, syringes, blades, or any broken lab glass capable of inflicting punctures or cuts
Why So Specific?
Human and animal waste can create hazardous and potentially life threatening illnesses and infections. Improperly disposing of human or animal waste or byproducts can lead to mass contamination of food and drinking water, the spread of disease and a higher risk of injury and/or infection by workers and handlers transporting or emptying dumpsters.
Generally facilities that produce biomedical and hazardous waste contract with disposal services that are trained and equipped to handle these materials. Furthermore, many have their own onsite disposal system that meets or exceeds all state and federal government biomedical waste disposal codes and standards. When you choose Dumpster Rentals Depot, make sure you aren't planning to dispose of anything prohibited
Published: 2018-05-02T23:26:37-07:00
Author: Fake User Laura Schmidt, Dumpster Rentals Customer Supp